Process of identifying material issues
Step.1

Identifying societal issues that are highly relevant to our business

istyle identifies societal issues by taking into account Sustainable Development Goals (SDGs) as well as Global Reporting Initiative (GRI) Standards, ISO 26000 Guidelines, Sustainability Accounting Standards Board (SASB) standards, and other guidelines, and then selecting those that are highly relevant to our business.

Step.2

Stakeholder surveys

We ask experts and shareholders, investors, and other stakeholders what they expect from istyle to ascertain priority issues.

Step.3

Management team discussions and final selection

The management team and relevant departments sort through the priority issues identified in steps 1 and 2 and hold discussions about these. They then select as material issues those about which stakeholders have high expectations and that are potential management risks for istyle.
Materiality matrix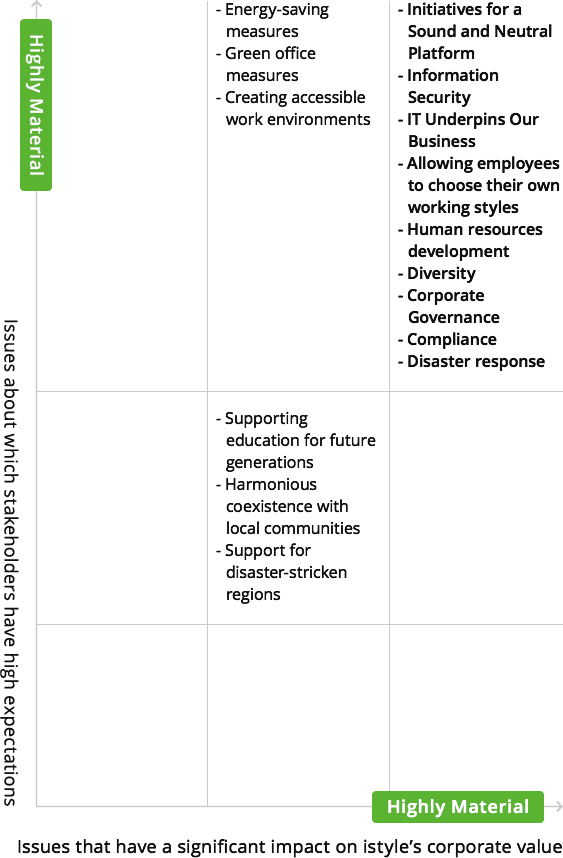 Three material issues
Materiality 01
Trusted platforms
Since @cosme, as a comprehensive beauty site, provides a platform for user reviews, we understand the necessity of earning the trust of consumers, manufacturers, and other stakeholders. It is vital therefore that we operate a sound and neutral community, ensure information security, and prepare the required IT systems so that feedback from consumers can be accurately conveyed to the market. We are working to establish a sustainable structure so that we can create a consumer-centered marketplace that generates virtuous circles in wider society.
Materiality 02
Employee empowerment
We believe that employees' growth and development and the synergies generated by differing individual talents help to enhance corporate value. We are therefore focused on creating work environments that help each employee to grow and develop and fully demonstrate their individual qualities and skills. As our business expands overseas and the need to innovate through harnessing diverse perspectives and knowhow increases, we are placing emphasis on mutual understanding and mutual respect as values to be shared throughout istyle Group.
Materiality 03
Enhancement of governance
Just as the success of the @cosme site is dependent on the trust stakeholders place in it, we believe it is crucial that istyle, as the company operating the site, also earns the trust of stakeholders. We are working to strengthen corporate governance and internal controls to ensure the soundness and transparency of our management practices.