BCP (Business Continuity Planning)
When serious disasters such as earthquakes and epidemics arise, we place the highest priority on safeguarding human lives and have formulated a business recovery action plan and manual to ensure, among other things, the protection of the assets and confidential information of customers and other stakeholders. As a risk-reduction initiative, we work to ensure that employees thoroughly understand the content of the business recovery action plan manual. We also aim to be a company that employees can feel secure working for, by distributing emergency supplies to all staff members, conducting regular evacuation drills, and so on.
Composition of Emergency Taskforce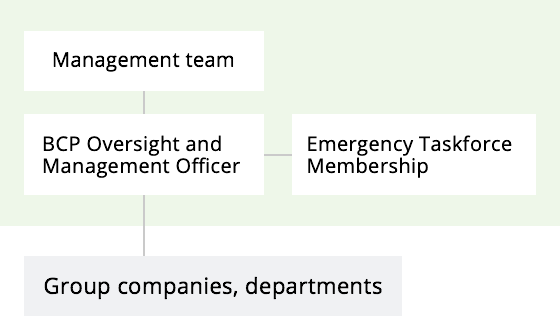 Protecting Our Database
Since the protection of our database, one of our core assets, is vital for business continuity, we have established a wide range of different measures to prevent loss of data due to equipment failure, etc. We are focused on creating an operational environment that ensures we are able to continue providing services by regularly backing up internal and online data, putting in place alternative functionality to prevent equipment failures from halting the operation of our systems, and so on.
We also select locations in which to site our data centers based on in-depth risk evaluation, including the ability to select from multiple power providers and the ease of responding to major earthquakes and other such disasters.